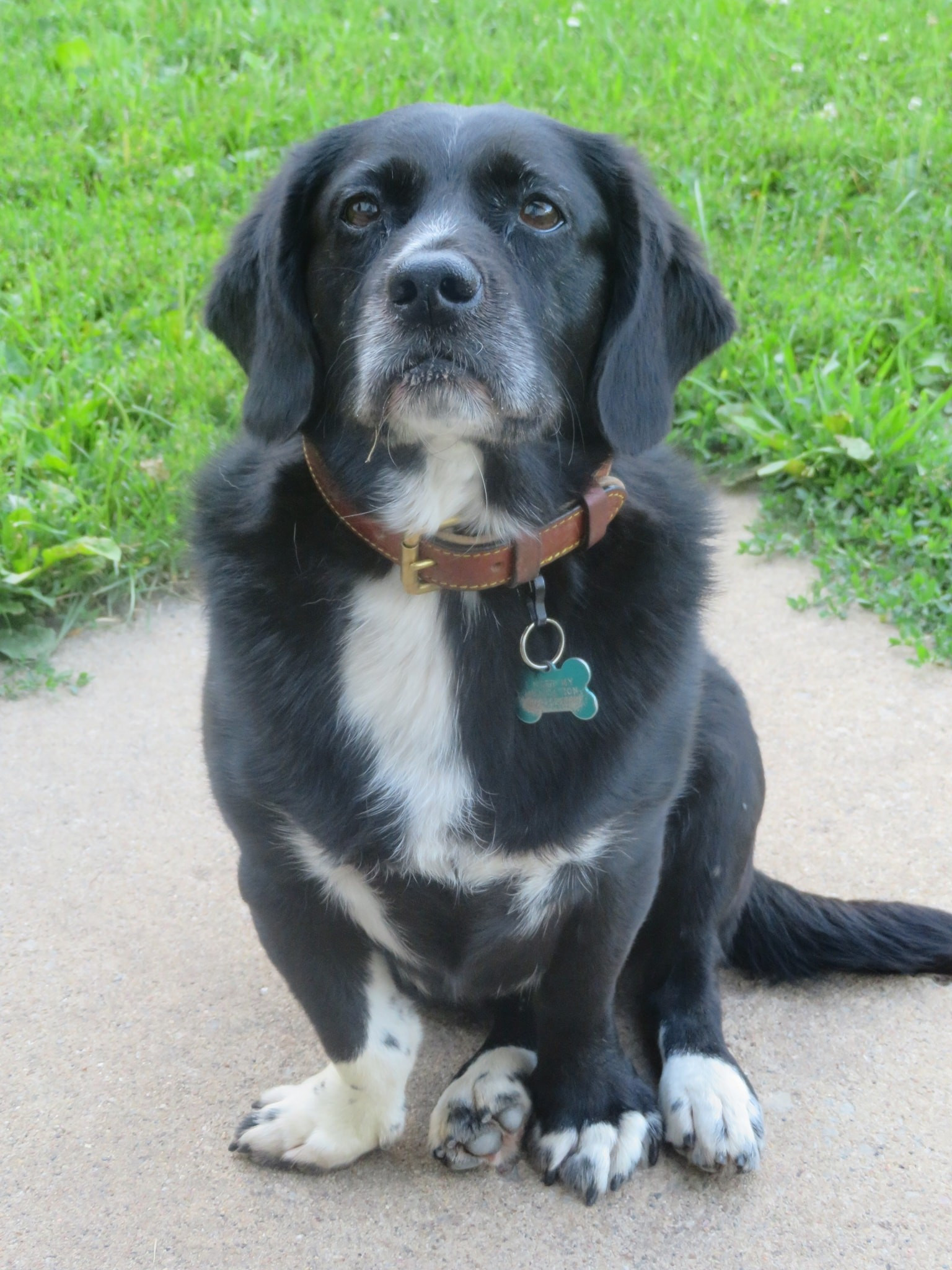 Diesel was born on a fall winter like day in Rochester MN on October 27th 2010 on the front of someone lawn as it snowed. Diesel and his family were rescued by a shelter and named after the snow white and seven dwarfs. Diesel name was grumpy. We adopted Diesel when he was 8 weeks old and have had him ever since. Diesel has lived an amazing life with a team of sled dogs at Pine Ridge Siberians. He has gone on so many adventures and checking off his bucket list. Diesel was diagnosed with malignant melanoma cancer March of 2019. He's not in any pain yet and doesn't know he has cancer. He stays so positive with it. Diesel is the happiest boy ever. He loves doing anything you are doing and will eat anything you eat. Diesel loves everyone from humans to other animals. Diesel is a black and white male Bassador, half basset hound/ half lab. How did Diesel get his name? His dad loves driving Diesel trucks. His favorite things to do is agility, barn hunt and dryland mushing. He also loves playing with his ball and being by his mom. Diesel is microchipped. Be Brave Be Strong Be A Badass.

Moto was rescued at 4 months old. He was locked in a small apartment in a kennel that he was to big for. The kid didn't have time for him and he was destroying the apartment. We found Moto on Craigslist and went and picked him up the next day. We moved on to some land where Moto can run his little heart out. Moto instantly became best friends Diesel. It's so cute Diesel curls up in Moto tail. Moto was born July 4th 2012. He is a red and white male standard Siberian Husky. Moto has had several puppies over the years and loves being a dad but retired in 2018. Now he does the thing he loves most is mushing and running. The instant he sees his harness he goes crazy and starts doing flips. Anything that has to do with running it's meant for Moto. From running next to the four wheeler, parachuting, dryland mushing with a cart or scooter and dog sledding with a sled in the snow. How did Moto get his name? Moto loves to go fast and we love watching dirt bikes race at motocross races so we chose Moto out of motocross. Moto is microchipped.
MJ is a red and white female standard Siberian Husky from Little Turkey Kennels. She was born on December 2nd 2012. MJ is a very laid back husky. She doesn't like doing much of anything besides giving you high fives and laying around. She gets irritated if there are other animals around but loves being around humans. MJ loved being a mom, she had several litters all red and white but had 1 black and white puppy. She has since then retired in 2018. MJ has been fighting a skin disease the last 5 years called Fibromas. They are a bunch of tumors all over her body. She has been on many different antibiotics, steroids, home remedies and even surgery but none it has helped. We talked to a few others that their Huskies had this and she will have it for the rest of her life. The only thing we can do is keep it clean and dry. So during the snowy or rainy months MJ has to wear a light weight blanket jacket and we clean it several times a week. Otherwise she is a very healthy loving girl that just wants your attention and loves going for car rides. A friend of ours recommended the name MJ and it just stuck so we went with it, that's how MJ got her name. MJ is microchipped.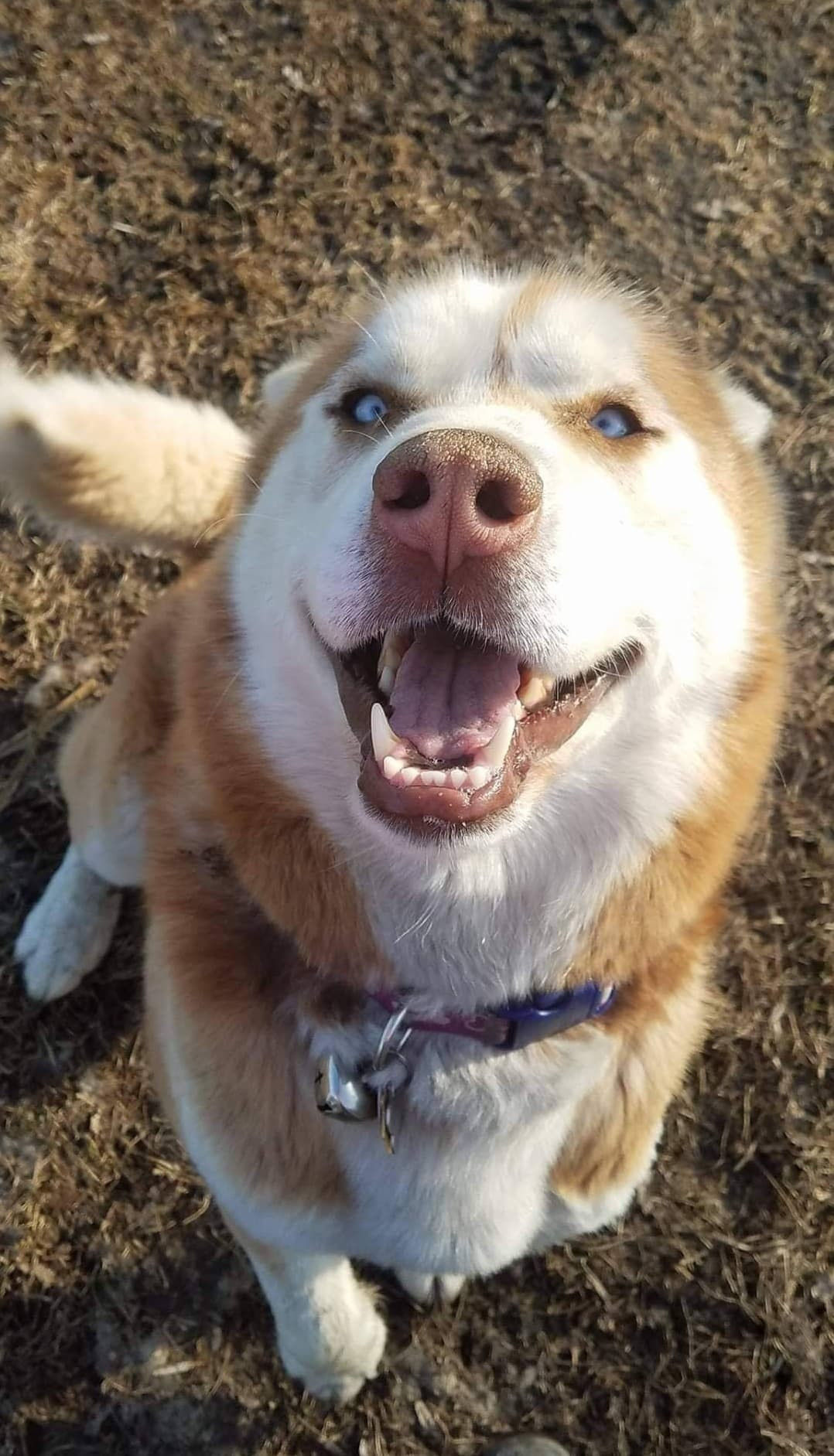 Brutus is a red and white male standard Siberian Husky that was born here at Pine Ridge Siberians on September 23rd 2013. His fur parents are Moto -dad and MJ mom. He was our born in a litter of 5 other girls, he was the only boy out of our first litter, so we decided to keep him. He was also the biggest one out of the litter so that's how he got his name Brutus. Brutus was only a dad to one litter and he hated being a dad so he never had another litter again. Brutus was more of keep to himself kind of puppers. He loved his dad since the day he was born. Brutus would curl up in Derek beard. Brutus loved all humans though anything to get belly rubs. He didn't like to many other animals. He did love his fur mom MJ. They would sleep next to each other every night. Brutus favorite thing to do was run off ahead of us about half a mile or so so he wouldn't be next to other dogs. He would never run off off but would constantly look back to make sure we were coming. He also loved the rock pile that is along our road. He would stand there on a snowy winter day just taking life all in. Brutus was an amazing dog. Brutus passed away here at his home on Pine Ridge Siberians on February 26th 2020 at the age of 6 due to cancer. He passed away from Hemangiosarcoma. We will miss you so much Brutus. We love you. ♡
Meeka was born June 27th 2014 at Little Turkey Kennels. Meeka is a black and white wooley female Siberian Husky. Meeka is our escape artist. She can destroy a chain link panel in matter of seconds. So we have to have 2 different fencing in her kennel. We use the chain link panels and then put cattle panels over it. We also put cattle panels in the ground because let's be real if she can destroy chain link fence she can destroy chicken wire. Then we put large rocks along the fence after we have dug the cattle panels in the ground. We win for now haha. Meeka has had several litters and loves being a mom she rarely likes to share her babies with us. she is very protective mom, but has since retired in 2018. Now Meekas favorite thing to do is to go mushing. She loves mushing more by herself as the boys annoy her but will run with a team once in awhile. She loves spending one on one time with her mom and loves watching TV. Meeka is sisters with Braaaap. How did Meeka get her name? We just heard a friend say it one day and it just stuck. Meeka is microchipped.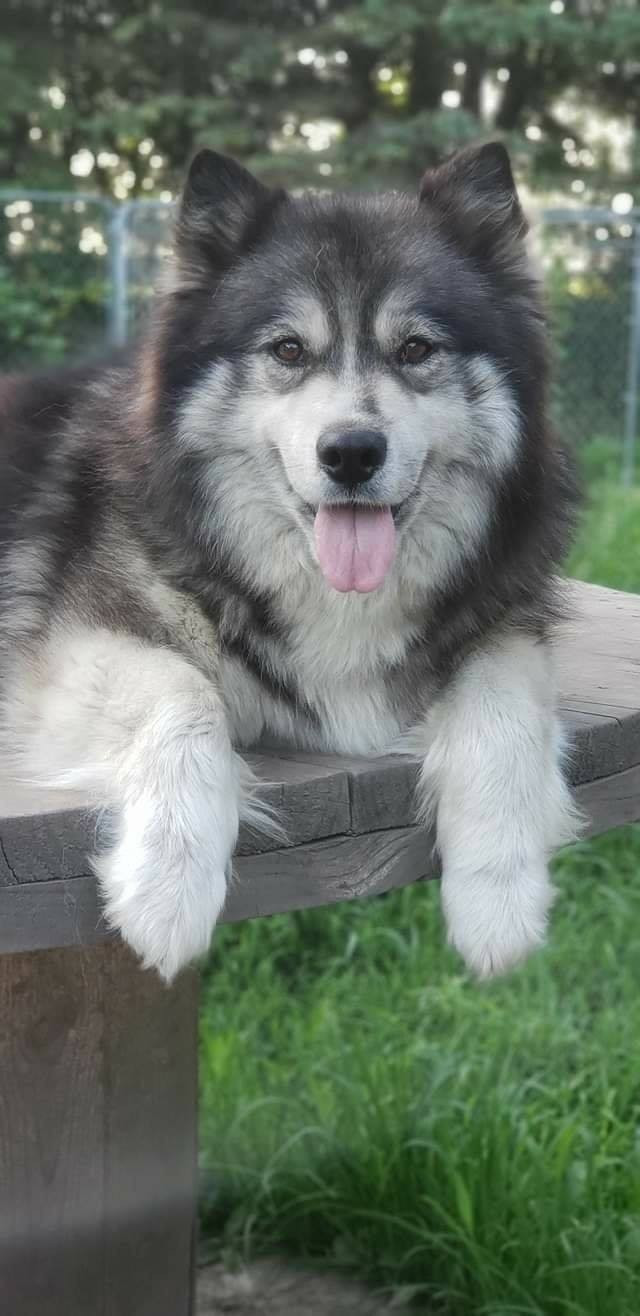 Braaaap was born on July 7th 2015 at Little Turkey Kennels. Braaaap is an agouti female wooley Siberian Husky. Braaaap is kind of a bully. She is a lot smaller then the rest of the pack but loves to pick on every one. Braaaap has arthritis in her back hind knees so she can't do any activities like mushing or agility etc. Braaaap goes on lots of walks otherwise lays around but once in awhile gets to do zoomies and boy is she fast. Braaaap had one litter of puppies and she was not cut out to be a mom so she never had another litter again. Braaaapy girl loves everyone but her favorite are younger children. She just adores them. Braaaap is sisters to Meeka just out of different litters. We often get asked why the name braaaap? Braaaap is the sound of a 2 stroke motor in like snowmobiles or dirt bikes. We love watching dirt bike races and thought how neat it would be to name her braaaap seems she loves doing zoomies like she would be at a race track. Braaaap is microchipped.
Demon was born on July 15th 2015 at Little Turkey Kennels. Demon is a black and white male plush Siberian Husky. Demon has very bad food allergies. He's almost allergic to everything on the market other wise he's a very healthy boy. Demon has had 1 litter of puppies but wasn't cut out to be a dad. Demon loves working for treats his favorite trick is to speak. He loves belly rubs and instantly insists you give them to him. Demon loves anything to do with mushing. He runs along as lead dog with Moto. He sometimes switches positions with Kenai and runs wheel but his favorite is to be up front in charge. He's very good at listening to his commands and will do anything to be on the trails. Demon loves everyone as long as he gets those belly rubs.How did he get his name? Well with his face markings and th different eyes and how naughty he was as a puppy Demon just fit. We got Demon and Braaaaap at the same time. It has been so much fun watching them grow up together. Demon is microchipped.
Koda Bear was born on February 23rd 2016 at our cousins farm. Koda Bear is a diluted black and white male wooley Siberian Husky. Koda Bear is our not so healthy baby. He has been fighting allergies since he was born from food to dust to human food and everything in between. The last few years he has gotten sick with bronchitis and pneumonia that gets worse and worse each year and this last year he was diagnosed with asthma. We have to make sure we catch it in time because each year he gets it it will just continue to get worse then the year before. Koda Bear loves to play rough and sounds so loud. He loves to be brushed and has a new obsession of balls... He loves mushing but as long as it individual. He does not like mushing with the team. He gets annoyed and throws a tantrum. Koda Bear has been a dad to several litters and loves all his puppies but has since retired in 2018. How did he get his name? It is off the Disney movie Brother Bear and we wanted something to go along with our other Husky we had chosen off brother bear, Kenai and Koda! Koda Bear spends his days rough playing with Meeka. Koda Bear is microchipped.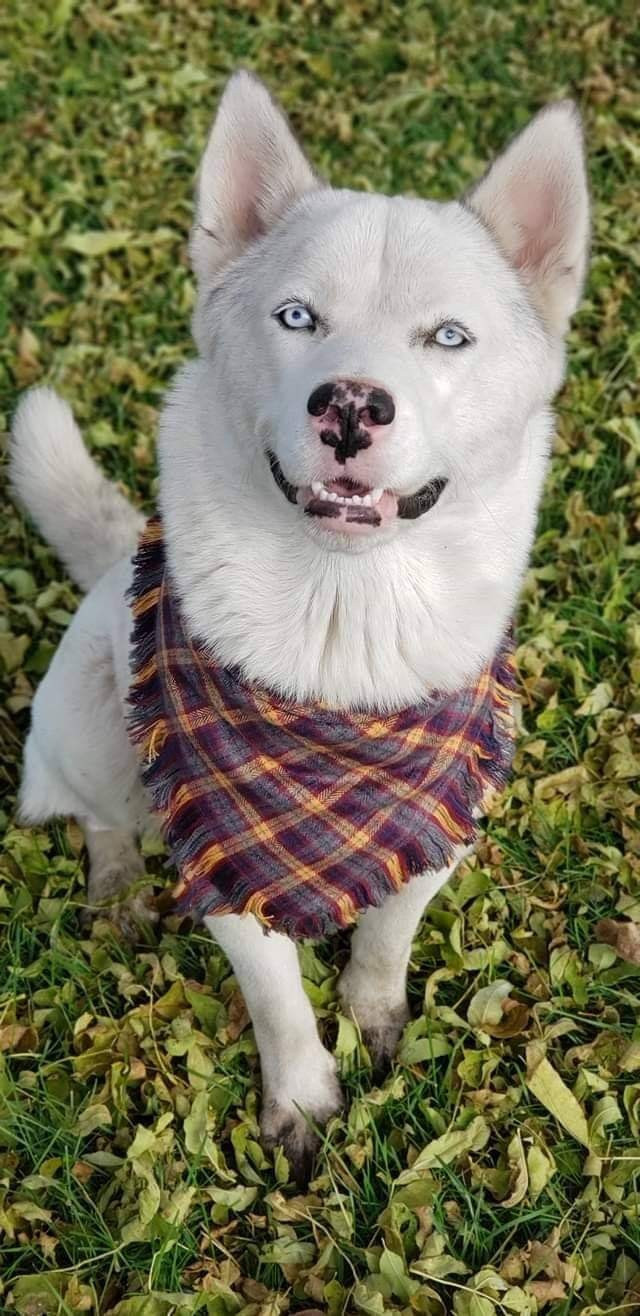 Kenai ( Moo Cow) was born on November 2nd 2017 at Little Turkey Kennels. Kenai is a more off white/creme and black male. Kenai is 75% Siberian Husky and 25% Australian Shepherd. Kenai has a nickname that's Moo Cow. He got his nickname because the inside of mouth, his nose and his back are all spotted like a Holstein Cow. How did he get his real name? It is off the Disney movie Brother Bear and we wanted something to go along with our other Husky we had chosen off Brother Bear, Kenai and Koda! Kenai loves to learn. With him it's very challenging to keep his mind busy because he's such a quick learner and will want to move onto something new right away. Kenai knows all basic commands, he's a therapy dog, he loves mushing with his PRS team. He is sometimes in the lead but rotates with Demon often. He just started learning weight pulling and also knows agility, barn hunt, fast cat, parachuting CPR and is an Emotional Support Animal for his mom. Kenai is many things but his favorite thing to do is go to classes to read his books to children. Kenai is in several children books, coloring books and comic books. You can find them on Amazon under Cassandra Severson or Cameo Anderson. Kenai has this disease called Eosinophilic Granuloma, this is very rare in dogs mostly common in cats, but 76% of the cases have been in Huskies. It can be caused by some type of allergic reaction. They are masses in the back of throat. It doesn't hurt him but mostly likely will have them the rest of his life. Kenai is microchipped.